Yay for much-delayed and image-heavy posts!
First, some intermissions:
* GameLoft will be opening an office in Manila, and I am kicking myself as to why I do not have the qualifications nor the portfolio to try for
the vacancies that they have recently posted
. I am thisclose to emailing Vincent Ricot to beg him to let me work for them as... I dunno... a receptionist? Person who makes photocopies and coffee? Gargh. I KNEW I should have insisted on taking up Fine Arts back then... T_T
* As ganked from

ruk
, Epson has launched their recent photography/graphic arts contest. Prizes include a 2-day trip to Japan in order to attend the awards ceremony, 2 million
Gil
Yen, and some Epson goodies, of course. So, if you want to join, just check out
Epson's site for complete details
. I've been considering joining, but I realized that the world is not yet ready for my greatness... Yes, that's the caffeine talking. Pay no heed.
-------------------------
Anyhoo, last July 6 was a very full and busy day. In the morning, we met up with

magiqa
whom we haven't seen for SO VERY LONG. Apparently, ribbon and lace was necessary to coax her out of her work schedule and spend some time with us, as she dropped by to purchase
that loli headpiece that I posted about
some time ago (my first customer! WHOO!). She's already written a better and more complete entry about that day, so I'll just leave it at that and let you guys
go to her post
if anyone's interested. :D
After spending the first half of the day with Elea, Lem and I then trooped over to Mall of Asia to meet up with my high school friends. A member of our group celebrated his birthday, and we were lured with the prospect of free food.
Hehe... seriously though, we WERE there to celebrate James' birthday, and I suppose it also served as a sort-of-going-away-party for Kate who, as of July 15, has already gone off to Singapore to work and live there for the next 2 years. James will also be following suit by July 24. I'm gonna miss them pretty badly, and I promised to write them letters once they're done with job-and house-hunting, and they figure out what their new mailing address will be. Sniff.
Anyway, moving on... we met up at Powerbooks and debated until we were finally able to make up our minds as to where we would be having dinner that night. We finally settled for Super Bowl of China, since it's one of the places that the celebrant really likes. When we got there, we were relieved to find that the place had plenty of available seats despite the fact that the mall itself was jam-packed with people (this is why I make it a point to avoid malls whenever they hold sales...). We then started ordering food and the celebration began! :D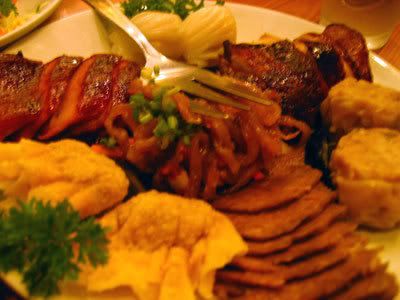 ( Dinner at Super Bowl of China )
After gorging on all that food, James was apparently still not content with fattening us up, so we took a cab to Serendra (The Fort), and he also treated us to dessert at the much-hyped specialty shop, Cupcakes by Sonja.
I was pretty excited to finally get to try one of the famed cupcakes, since I've never had the chance to do so since the shop opened in late 2006. I've read a lot about it, and though the merchandise has received rather mixed reviews, I've always wanted to at least see the venue ever since I saw the photos from
Jin Joson
's
Death Note
cosplay shoot.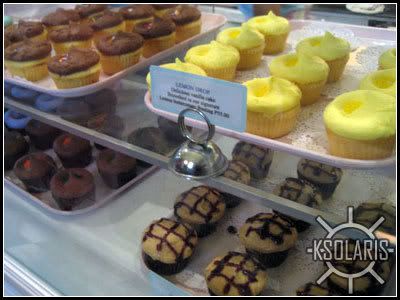 ( Cupcakes by Sonja. More, yes? No? Maybe? )
And that was how James' birthday went. Bow.