For the past two days, the office internet connection has been particularly lenient and has allowed us to get to sites that are normally blocked. It being the weekend and all, with very little work to do, I told myself that this would be a good chance to finally catch up on things and start posting entries which have been severely backlogged for months.

Things were going according to plan... until I realized that I can access both Plurk AND Facebook at work.

Needless to say, everything just went down the drain as I spent most of my time either Plurking or replying to people's Plurks, or playing D&D Tiny Adventures (by the way... ADD ME AND BUFF ME!!! KTHNXBAI!!). It's already a good thing that another Facebook app, Pet Society, doesn't load properly here at the office since our version of Flash is outdated. Otherwise, I don't think I'll even be able to do any work at all, and I'll just end up sitting in the office, playing for hours.

Anyway, I'm gonna try to make a coherent post. Remember, the key word here is "try"...


--------------------------
At the office, one of the first things that I do upon clocking in, is to check CNN for headlines as well as weather updates, since our work volume is pretty much dictated by how bad the weather in the US is. Now, what amazes me the most is how it is actually still possible to go to such a trusted news source and still come accross the siliest headlines. Like these, for example: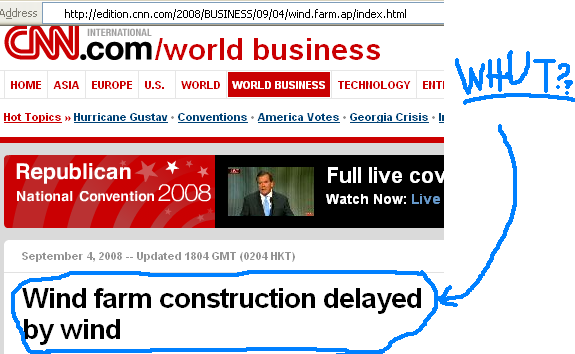 ( other prime examples of CNN lulz )
Now, I'm really fond of getting my daily dose of lulz online but, I supposed I just didn't really think that CNN would be such a good source for such things. I stand corrected, though. XD
--------------------------
Some time last month, a good friend of mine who doesn't have an eBay account of his own asked me to get him some perfume from eBay. I got it for him, and when we met up so that I can give him the product and he can give me the payment for it, I ended up being curious about this whole obsession with expensive scents.
To be honest, the most money that I've ever spent on scents would be for a 400-peso bottle of Plum Blossom-scented cologne-body-spray-whatever from Bath and Body Works. My friend, on the other hand, paid 1800 pesos for a 100ml tester bottle of perfume from Bvlgari, and at that rate, he claims that it was already very cheap as compared to its actual retail price in malls. When I asked him why he likes these things so much, he emphasized the importance of smelling good in all situations, all the time.
This whole conversation got me thinking about my one and only bottle of
Clinique Happy
(a gift from a relative) sitting in our bathroom for the past, oh, four or five years? Despite having had the thing for so very long that its shiny chrome cap is already starting to rust, the bottle still has about 25% of its original contents left. This suddenly made me very conscious, and I wondered how much I've been stinking all these years (yes, sometimes I'm thankful that I have gay friends who force me to realize things like this).
I then decided to try it out, and I asked my friend for some recommendations. He easily named three top picks:
- Dolce & Gabbana's
Light Blue
- La Coste's
Touch of Pink
- and GAP's
Dream
With a shortlist like this, I felt a bit ready to try experimenting, but my next dilemma stems from the fact that:
- I'm poor and can't afford X thousand pesos worth of perfume that I may or may not like in the end
- I have no patience to go to a department store and strart harassing the perfume counter attendants
- I have no confidence to go to a department store and try to pick out a scent since I have no idea on what I'm doing
- I'm afraid of being pressured by a really good salesperson into buying something that I'm going to regret later on.
- I can't seem to trust my own nose, since more often than not, what I find strange has been well-liked by people around me, while what I thought to be nice turned out to be rather unpleasant.
So, I decided that I will have to find a way to acquire the perfume at much lower costs, AND I will also need to be able to "test drive" it, i.e. use it for a full day and see how it goes, before I settle on something that I would be willing to spend my money on. I looked up the prices of the perfume that my friend recommended and I nearly gagged, but thankfully, I discovered that the answer to all this was to buy sample bottles from eBay.
The whole thing is perfect, I tell you.
I get to buy and use authentic scents for really low prices, AND the sizes of the bottle seem to be just about right for me since I don't use it very often, as I've discovered that one apparently doesn't need very much of it in order to be smelled from accross the room. Also, as with most designer scents do, the scent lingers for the rest of the whole day and even sticks to your clothes even after it's been washed (this discovery, in turn, has led me to wonder how in the world some people can bear to spray themselves with strong perfume several times, about thrice a day, when a drop or two is actually sufficient). The fact that the bottles are tiny are also helpful since I can slip it into my bag or pocket with no problem.
So far, I've been very satisfied with the scents that I've tried, namely:
D&G
Light Blue
, which reminds me so much of the scent of goods when you've opened a
balikbayan
box from New York (all my relatives from my dad's side are there, and dad also sent us a lot of stuff when he stayed in New York for several years, back when I was in college).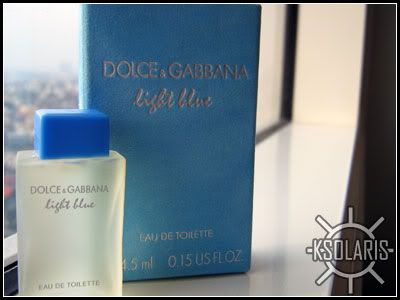 Kenzo
L'eau Par
for Ladies, which was a gambit since I've never heard of it before, and which I only bought because... well, it was there. XD I'm actually very fond of it since it smells so very sweet, like some tasty, sticky, yummy fruit or flower. Hehehe. And yeah, Ian likes it, too, since the scent is light enough for his sensitive nose (not sensitive as in "picky, but sensitive, as in, he gets allergic and starts sneezing like crazy when he smells something harsh, like strong perfume.)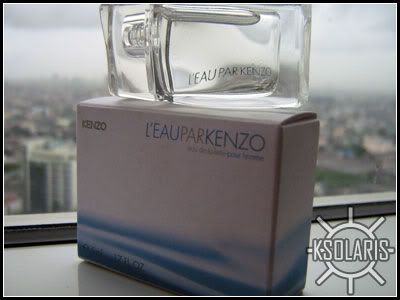 Hehe... I'm quite happy with my purchases and I'm thankful that I took up my friend's suggestions. I'm even happier that I found out that I can just do this, and at the rate things are going, I may end up just buying these tiny bottles from now on, since it fits my budget, my bag and my needs, and is relatively low-risk. So, YAY for gay friends and YAY for eBay! eBay has all the answers to life's little troubles! :D